Day 17 – Thursday – Radiant C Daily Skin Booster
Ok so a small loss today which is still encouraging as I head towards the weekend and how quickly the weekends seem to come round thesedays – is  that another sign of getting old, oh gosh I hope not!
So yesterday I mentioned I was going to give you a quick heads up about one of my other most favourite skincare products, the Radiant C Daily Skin Booster, it's a weird product really, its texture is silky, smooth and it's classed as a  gel cream which straigh away sounds weird but it  feels slightly like Vaseline but exquisitely gorgeous rather than greasy and when you apply it to your face, hands or wherever your skin feeels soooooo silky smooth and wonderful.
But actually apart from the feel of your skin when you apply this, the Radiant C Daily Skin Booster is great because it contains Vitamin C (as you should guess from the name) which helps to improve your skins texture, it helps to seal in your skins own moisture and smoothes it helping to rejuvinate tired and dull looking skin and it's absolutley brilliant for underneath make-up.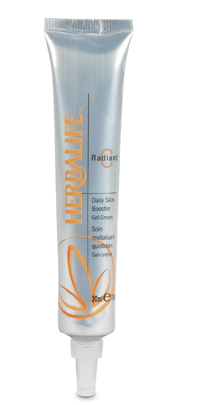 This and the Nourifusion Moisturising Mask really make you feel like you are spending hundreds of pounds on pampering yourself when you're absolutely not.  They do have a very luxurious feel to them and I really enjoy using both.
STATS – Thursday Morning
If you'd like any help or advice on our skincare range then please call, email or take a look at my website at http://bit.ly/TheWellnessStore or you can take a look at  'Weight Loss Made Simple' Remember you can try any of the Herbalife products at any time as they are all covered by a 30 Day Money Back Guarantee.
Please don't forget to send my link to friends or share on Facebook and Twitter – not just with those who wish to lose weight but with those who enjoy pampering themselves and who might be looking for new skincare ideas, the Radiant C Daily Skin Booster or the Nourifusion Moisture Mask make fantastic gifts too.