Day 16 – Wednesday – What About The Skin?
No movement today which is fine, lets see what happens tomorrow.
I talked a few days ago about how my skin was when I came off one particular skin product well today I want to briefly mention what happened when I came off the the rest, my cleanser, toner, moisturiser, eye cream and night cream, which I've religiously used morning and night for years and years.
Once again I found it difficult to break the daily routine that I'd got myself into but having hidden everything out of site it was starting to get a little easier.  What made things much harder was the fact that my skin was starting to go blotchy, it was tight and taught and looked really dull and lifeless after about only 6 days and if you remember I noticed it start getting tight and taught from day one when I stopped using the Radiant C daily facial scrub cleanser.
It's very easy to forget that as a youngster our skin regenerates itself every 7 days but as we get older it's more like once every 30 days which is why we need to use products like exfoliators and face masks on top of our daily routine to give nature a little bit of a helping hand.
Cleansing, toning and moisturising are the absolute very basic steps that we should be doing  and  my skin was very quick to tell me that it needed that extra daily help and attention. Plus to make matters worse during December we went to Tenerife for a few days on business and it was super, sunny and very warm which was lovely but my skin didn't think so!  Oh how my skin loved that suntan cream, it couldn't get enough of it.  No sooner had I rubbed it over my body and it was gone, absorbed as though it had never been put on.  No need to rub the cream in this year oh no!  My skin was definitely in need of some kind of something to help it get some moisture from somewhere.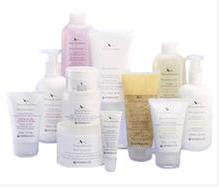 In fact by the time we returned home around the 20th December I couldn't stand it any longer, I felt like I was ageing by the hour and with Christmas coming up I just knew I was going to look terrible and what with my nails already looking shabby I didn't want my face to look a mess too.  The skincare routine just had to be reinstated as of the moment I returned home and one thing was for sure I was going to start with the rich deeply hydrating Nourifusion Moisturising Mask – which when applied should stay looking like a thick layer of pearlescent cream like in the picture below but hey no not today, not my skin, no absorbed in a flash as did the next layer!  How dehydrated was my skin.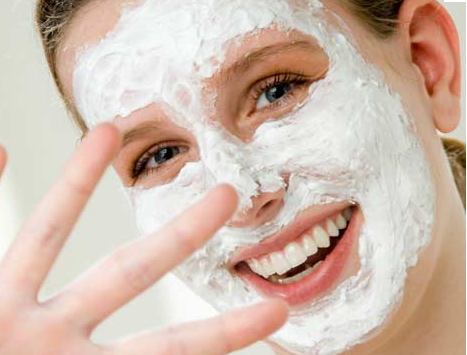 (In fact I used the fantastic Moisture Mask every couple of nights until I was happy that my skin was starting to rehydrate again.)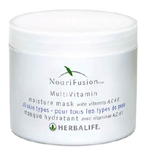 I quickly followed  that same evening with an all over Nourifusion exfoliation and then a Radiant C Body Lotion session to help revitalise my skin.
The whole thing had made me realise just how much I'd  been taking for granted all the hard work that the Nourifusion and Skin Activator creams had been doing for me.

This fantastic cocktail of vitamins and nutrients contained within these powerful ranges of skincare products must have been working damned hard for years without me even realising and it's only when your skin stops getting it's twice daily dose of Vitamin A for its improved skin moisture, it's Vitamin C for increased collagen production and immune boosting properites as well as it's Vitamin E (ACE) to help protect the skins moisture barrier and smoothness of your skin that you realise how quickly you can start looking a bit ropey!  Certainly won't be trying that experiment again, that's for sure – oh NO!
So Which Product Do I Feel Helped My Skin The Most?
The fantastic Moisture Mask has got to be one of my favourite products, it's luxurious and really makes you feel like you are treating your skin.  It's thick pearlescent looking, rich and creamy, a little luxury at the end of the day and is suitable for all skin types – I recommend it to anyone.   Tomorrow I'm going to do a quick post on one of my other favourite products which helps keep in your skin's moisture which as we get older is a definite plus and it's like having your own little secret weapon!
So until tomorrow –  Oh I nearly forgot, todays Stats!
STATS – Wednesday Morning
Please don't forget to send my link to friends or share on Facebook and Twitter.
If you'd like any help or advice on our skincare range then please call, email or take a look at my website at http://bit.ly/TheWellnessStore. Remember you can try any of our products at any time as they are all covered by our 30 Day Money Back Guarantee.